Congratulations to our Community Council Award Winner 2018
By Clerk // March 22nd, 2019
Congratulations to Mr Bill Daniel, winner of our Annual Community Award for 2018.
Since moving to Parc Derwen Bill has not only set up the Keep Coity Tidy group and spent hours clearing up rubbish, he also drove stranded health workers to work during the snow last year and often bakes Welsh cakes and sells them outside Coety Primary School with his granddaughter to raise money for the school and he raises funds for other charities too.   He's always the first to volunteer and help out and the Community Council were delighted to present him with the award.
On 14th March, Mr and Mrs Daniel were invited to the Community Council meeting where Bill was presented with an engraved shield, along with a small gift, and Mrs Daniel was presented with a bouquet of flowers.   Both were presented by the Chair of Council, Councillor Martin Williams.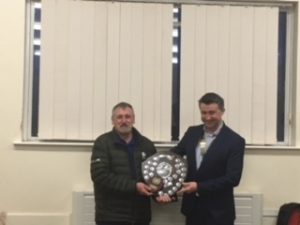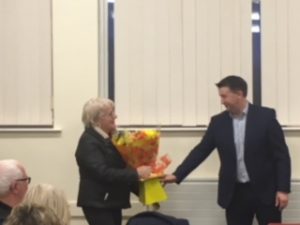 ---