Revised Funding Submission for the Community Council's Active Travel Plan
---
By Clerk // January 14th, 2019
---
Following feedback from an unsuccessful (but highly commended) bid in 2017, the Community Council has produced a revised submission, supported by further consultation that focuses on safe routes to schools.  The document is attached here
Coity Higher Community Council Autumn/Winter News 2018
---
By admin // November 19th, 2018
---
Please click here to download a copy of the Council's first newsletter.
Repairs to Allotment Gardens Roadway
---
By Clerk // November 13th, 2018
---
It's great to see that the repairs to the Allotment Gardens roadway have been carried out, as well as tarmacing the two most problematic areas, additional drainage and a soakaway have been installed.  This should make access to the gardens during the wetter months much easier for the tenants to access their plots.
Here are some photos of the work: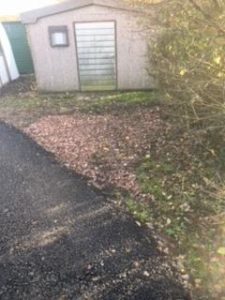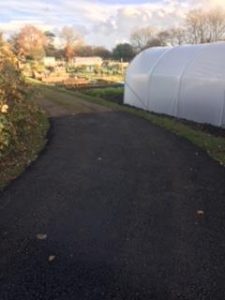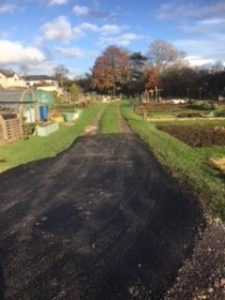 WW1 Centenary
---
By Clerk // October 30th, 2018
---
Coity Higher Community Council has been completing work within the community to mark the WW1 Centenary.
Coety Playing Field behind the church has been entrusted into the Centenary Fields in Trust initiative so that it is protected from development in future years and has been named Cae'r Eglwys.  A plaque has been installed to mark the occasion.   In addition, the Community Council has refurbished the railings around the war memorial at Heol yr Ysgol, painted the bench next to the memorial and Borough Councillor Amanda Williams arranged for the section of  footway in front of the memorial to be renewed.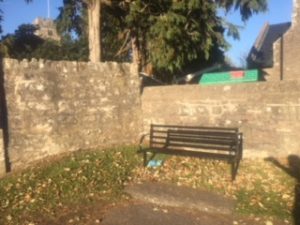 Hate Crime Awareness Week
---
By Clerk // October 30th, 2018
---
To mark Hate Crime Awareness Week a promotion was held at the Princess of Wales Hospital as part of the week.  Below are some pictures of the event which was attended by Community Councillors Anita Davies and Bernard Tiltman along with Borough Councillor Amanda Williams.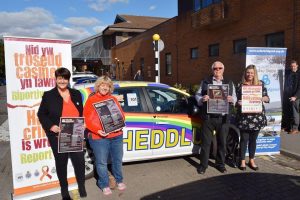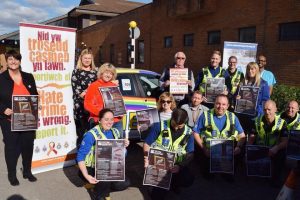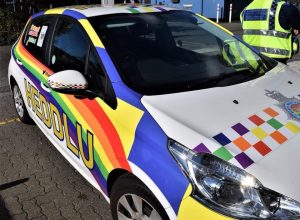 Results of Poll – Pendre Ward
---
By Clerk // October 5th, 2018
---
Please see the notice of Results of Poll for the Pendre Ward By-election held on 4th October 2018 here
Please see the Notice of Poll for the Pendre By-election to be held on 4th October here
---
By admin // September 28th, 2018
---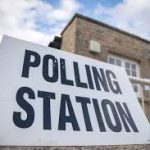 Persons Nominated for the Pendre Ward By Election
---
By Clerk // September 10th, 2018
---
Please see attached a notice of Persons Nominated for the by election of the Pendre Ward here
Notice of Election – Pendre Ward
---
By Clerk // August 29th, 2018
---
A request for an election has been called in the Pendre Ward, please see the Notice of Election here
New Speed Warning Signs Installed
---
By Clerk // August 15th, 2018
---
It's good to see that our new speed warning signs have been installed on the bypass at Trem y Castell.   We are also installing signs in Pendre and Litchard over the next few weeks.